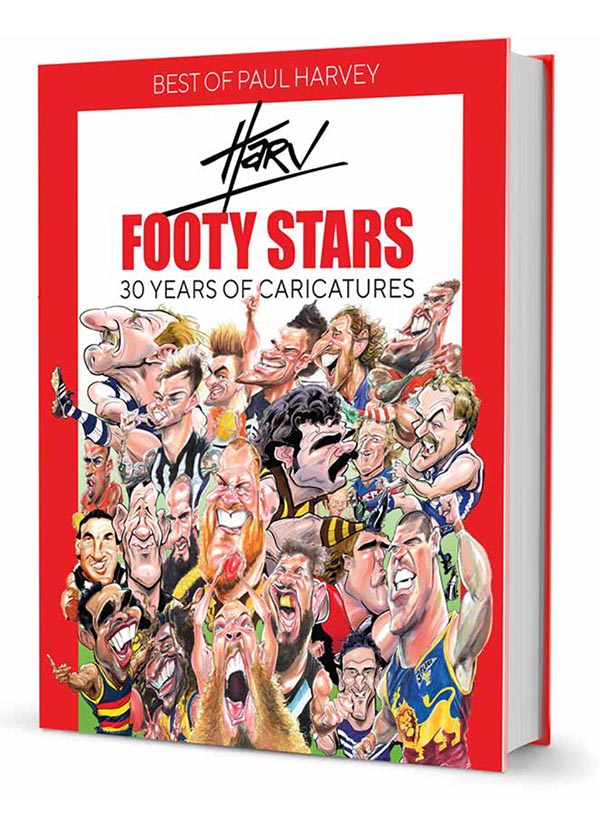 In celebration of the release of Harv's Footy Stars-Harv is offering a FREE book and a FREE personal caricature for the first person to correctly name all the footballers depicted in the attached illustration DETAILS HERE
Paul Harvey is one of the country's leading cartoonists, caricaturists, illustrator and authors. Harv is based in Richmond, Melbourne, Australia with his wife and three kids
Harv is a remarkable artist who is as much at home entertaining a corporate function with live caricature as designing and painstakingly hand illustrating an illuminated address. Harv has designed the Hall of Fame, Collingwood and Melbourne Life Membership certificates and produces a large address (A2) which is presented to the AFL Brownlow medalist each year.
Harv has had work published in most newspapers and is a contributor to a diverse range of books and magazines. He has had numerous articles written about his work and appeared in stories on TV news bulletins, children's and sport programs, at home and abroad. Wilkinson Publishing has just released a magnificent hard cover ode to his work with a book entitled, Harv's Footy Stars – 30 years of Footy Caricature.
Harv's work covers a varied range of styles from watercolour, inks, acrylic, oil, pen, brush and most digital illustrative and design programs. HE has produced postage stamp sized pieces and murals on walls 20 meters long. He has produced caricatures for the Select Footy cards for over 8 years and has supplied cartoons for Golf Victoria magazine for almost 20. Many of the country's movers and shakers, across all walks of life, have a Harv original caricature on their wall.
Harv is also the author of the childrens' books' The Mighty Bunyips and 'The Invincible Bunyips' and is the illustrative genius behind many, many titles.
He is a remarkable live artist and his lightning-quick caricatures or the graphic recording of your event will blow your guests away. He has been invited to speak about his work at hundred's of schools. Contact him today to organse a visit.
Paul Harvey, from my appreciation of his work over the years, particularly in caricature, is one of AUSTRALIA'S best and he deserves the recognition for what I see and admire as great drawing. WEG (William Ellis Green)

You can purchase Harv-Time Posters HERE!